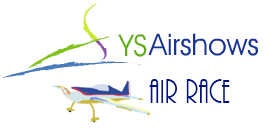 Welcome to the YSAS Air Race.
In YSAS Air Race, competitors have to navigate a challenging obstacle course in the fastest time. Pilots fly individually against the clock and have to complete tight turns through a slalom course consisting of pylons, known as "Air Gates".
YSAS Air Race's will take part alongside YSAS air shows. Every other YSAS air show will have a theme and the Sunday line up will include the YSAS Air Race. At every air show that the races take place points will be awarded, totalled up and at the end of the year the YSAS Air Race champion will be named. There are only 10 spots so hurry, but before you sign up you need to make sure that you can make the races and read the rules. Even if you don't get in, apply anyway, because if a pilot miss more two races, their spot will be given to the next person in line, which could be you.
Aircraft:
Everyone taking part in the YSAS Air Race will get their own Extra 300, in your own colours and if you want sponsor (sponsor will be simple text on the side e.g. YSFHQ).
Rules:
1. Must follow the course, deviations will give you a 6 second penalty or disqualification (depending on how serious the deviation is).
2. 200 knot speed limit through the start gate, over speed will give you a 2 second penalty.
3. Hitting a gate will give you a 2 second penalty.
4. If you miss more two races, your spot in the championship will be given to the next person in line.
5. Air show dates will not be changed from the advertised date, if you are unable to make the race then you will score no points. Remember, miss two and you're spot is given to someone else.
Points:
1st = 13 points
2nd = 11 points
3rd= 9 points
4th= 8 points
5th= 6 points
6th= 5 points
7th= 4 points
8th= 3 points
9th= 2 points
10th= 1 point
Races:
Other than the first round, the races will take place on the Sunday of a two day weekend air show. They will consist of three heats, in each heat people will be knocked out of this round and only the fastest go through. In round one the slowest six will get knocked out, round two will see the next slowest two pilots go leaving the final found to be battled out by the two fastest over all.
*Important notice: This section is not 100% and may change.
Rounds:
The YSFHQ YSAS Air Race 2011
Round one: YSAS Independance Day Air Expo (Friday, July 22nd, 2011 - 12:00pm CST, 1:00pm EST, 6:00pm GMT)
1st: Waspe414: 1:12 [13 points]
3rd: Gennaro: 2:03 (6 second penalty ) [9 points]
5th: Welshy & Crazy pilot: no time. [1 point]
Round two: TBC
Rankings:
Waspe414 = 13
Gennaro = 9
Welshy = 1
Crazypilot = 1
Chunt75 = 0
Danny = 0
Dave J = 0
Sign up:
Simply fill out these three easy questions and you're on your way to being crowned the YSAS Air Race champion. And even if ten people have posted before you, fill it out and post anyway, you may still have a chance.
Name: (this will be seen on the bottom of the plane)
Colours: (maximum of 3, please list the RGB codes for the colours)
Sponsor name: (if you don't want a sponsor your name will take it's place)
Pilots:
#1: Welshy
#2: Chunt75
#3: waspe414
#4: Crazypilot
#6: Danny
#7: Gennaro
#8: Dave J
By signing up you agree to follow all the rules.
Downloads:
The practice map for the first round is up. Download
here
The ground objects that you will need are by Talon. Download
here
Aircraft are coming. a practice aircraft will be up this week. It will be the GAC Extra 300 so use theirs for now. I'm going to give it a go and test how it handles. May change the dat if needed. but the visual model will be GAC with birdfarm updates.
Want to host an YSAS Air Race?
If you want to host an official round of the YSAS Air Race then you can. YSAS Air Race's are available to take part in non-YSAS online events. All you need to do if send me a PM with all the relevant information with at least one months notice and if YSAS board agree you will be hosting an OFFICIAL round of the YSAS Air Race. You can even design your own course for the event.
Next year?
If YSAS Air Race gets positive reviews and turn outs this year. Then we WILL do it again next year, only bigger and better. So if you don't get in this year don't worry, make sure you turn up to watch and enjoy the races and ensure it is here again next year. YSAS Air Race is part of YSAS plan to make YSAS online events more varied and exciting so that we can reach a larger audience with a wide range of events.
So, sign up and we'll have a practice course ready for download in ASAP.
Vandal, YSAS Air Race director.