IS RECRUITING
That's right.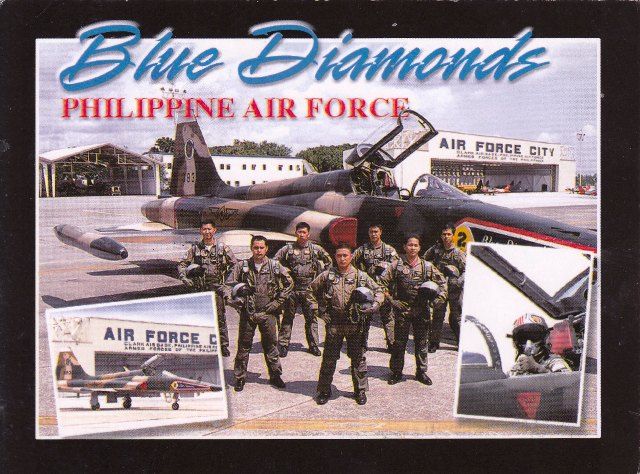 The team was formed in 1953 by First Lieutenant Jose Gonzalez and his air group. It first used P-51D Mustangs before jet aircraft were acquired. As the Air Force grew in popularity and strength, so did the team. The move into the jet age started in 1959, when the F-86D Sabre was acquired by the air force during its modernization. Lieutenant Lino C. Abadia was the commander at the time. It performed in the country every Aviation Week. Smoke was introduced in 1958; in 1959, the team performed with the Republic of China Air Force on and the U.S. Air Force Thunderbirds on August 1.
In 1963, in response to the United Nations request for the Philippines to contribute to a peacekeeping mission in the Congo by deploying a squadron of fighter pilots and support personnel, The Philippine Air Force created the "LIMBAS" 9th Tactical Fighter Squadron. Pilots from the 6th TFS and 7th TFS were reassigned to form the core of this elite Fighter squadron and as a result, the Blue Diamonds were not able to perform that year.
The team first used the F-5 Freedom Fighter in 1968.
In the 1970s, crisis came to the Philippines. But in 1971, the sister team of the Blue Diamonds, the Red Aces was formed. In 1976, the team was disbanded because of the problems that came about. In 1986, it was reformed, when military problems were eased. In 2005, when the Air Force phased out their F-5s, the team was temporarily disbanded. At present,the Red Aces are dormant, awaiting the acquisition of modern aircraft. Among the types under consideration is the American F-16 Fighting Falcon and F/A-18 Hornet, the Israeli Kfir, the French Mirage 2000 and the Swedish JAS 39 Gripen but until 2012 there no decision has been made due to the financial ability of Philippines.
Current needed pilots
1. Second officer
2. Moderator
3-6. Pilot
Fleet:
Northrop F-5 Freedom Fighter
North American F-86D Sabre
North American P-51D and K
Recruit form:
Name:
YS username:
E-mail:
Age:
Preffered Aircraft:
Forums:
http://biensworldaviationlover.weebly.com/forums.html
#/
For modders:
Our livery
Notes: Just change the livery from No. 1 to 8
Also some # codes (the ones near the engine exhaust) :
46 for F-86 (Ex. 468)
56 for F-5 (Ex. 568)
66 for P-51D and K (Ex. 668)
Note that there will only be 8 members in this squad.
PAF logo:
(I think you can remove the black things in the picture)
That's all, thank you