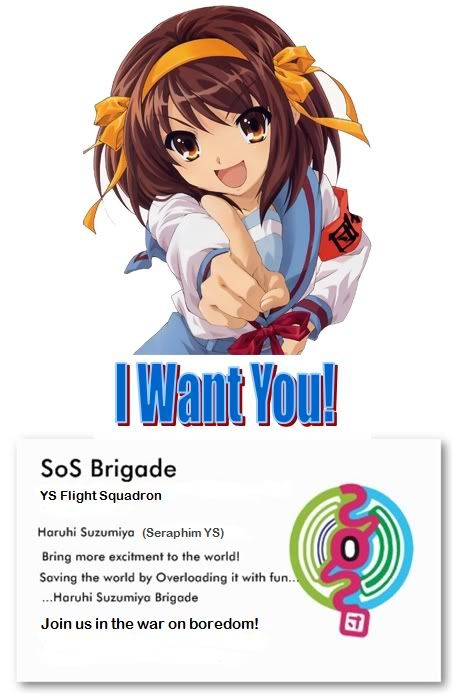 The SOS Brigade currently boasts four members and is looking to add more! Join me Seraphim "Haruhi" Suzumiya to save the world by overloading it with fun!

SOS Brigade Rules
1. No trolling on the forum
2. You must clearly identify yourself as an SOS member on servers
3. Wars will be declared on haters.
4. If someone hates on the servers, you must inform them that they have engaged in an act of war.
5. Report the act to Seraphim "Haruhi" along with the name of the offender and their squadron.
6. Wars will be accompanied by written declarations and war plans posted on the forum
7. If SOS planes are available on the server, you must use them when flying with SOS tags
8. Always use chat on servers
9. Always announce the arrival of the Brigade when you enter servers
10. Always follow server rules
11. Always engage enemies when encountered on servers
12. Never surrender to boredom
13. Try to interest others in playing server based games
14. Welcome others on servers to apply to the Brigade
15. Think outside the box of traditional human warfare
16. Never be normal
17. Watch Cowboys and Aliens
18. If war is declared on a squadron I which you are a member, you may abstain from fighting and act as a special emissary for the surrender of the other squad
19. You must wish all Brigade members a happy birthday on their birthdays
20. You must check in at least once a month to maintain active status.
21. Those who fail to check in become "ghost members" and must seek permission from the highest ranking active member present to participate in Brigade events.
22. If you are a "ghost member" you will be returned to active status after two consecutive months of checking in.
23. The whims of Seraphim "Haruhi" must be followed as rules. Rules may therefore be added at any time.
24. Everything is public.
25. We will accept gifts.
26. Singing and music is encouraged.
______________________________________________________________________________________________________
Watch our recruitment video here!
If you are interested in joining me in the fight against boredom, please fill out the below application on this thread:

SOS Brigade Admission Application
1. Tell me why you think you are worthy of membership in the SOS Brigade.
2. Which is your favorite Haruhi character?
3. Do you like bacon? (Including turkey bacon for our Jewish friends)
4. Will you be able to spread Haruhism on servers?
5. Are you a member of any other squads?
6. On a scale of 0-10 (ten being the most), how important would you rank the fight against boredom?
7. On a scale of 0-10, how skillful would you rank yourself as a pilot?
8. Are you willing to pledge fealty to me and the squad?
9. Will you be able to confine SOS activities to approved times and places?
10. Would you be willing to have a special call-sign for all SOS server activities?