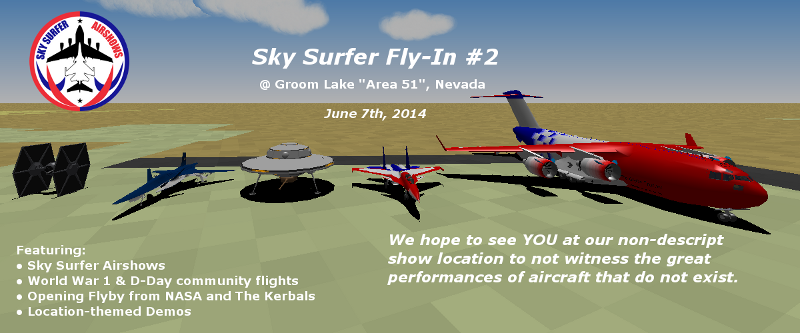 That's right Ladies & Gents, we are back with another show just in time for Summer.
This time around we are hosting the show at Area 51, perhaps the least-secret of secret military installations here in the states. Located about an hour or so North of Las Vegas, Nevada. This is a themed event focusing on Sci-Fi planes, Black Projects, and UFOs, but all participants and planes are welcome to sign up for demos. We do have a few themed flights requiring volunteer pilots, so PM me if interested in filling a role.
YSFlight Server IP: skysurfer.no-ip.org
Teamspeak IP: ts.ysfhq.com
Final Roster & Performance Order:
1. NASA + KSP Opening Flyby -- Jeb, Bill, & Bob
2. Arado 234 -- Tigershark
3. 57th Skorpion -- Rise & Shine
4. B-1B Razor -- VNAF ONE
5. RAF F-35B Lightning II -- Alpha Star
6. CLASSIFIED -- Ace Lord
****RESET****
7. Daggerstorm Shinden 2 -- MD5Ray01
8. Harrier GR7 -- Doggeh1
9. F-4 Phantom Wild Weasal -- Tigershark
10. Swift S-1 -- Alpha Star
11. USAF vs. UFO -- Ace Lord + VNAF ONE
12. D-Day Mass Battle -- OPEN FOR ALL
****RESET****
13. Tankbusters Thunderpigs -- MD5Ray01 + VNAF ONE
14. F4U Corsair -- wolfman
15. TIE Fighter Flyby -- Ace Lord + Zak + MD5Ray01
16. VNAF Extra -- VNAF ONE
17. Raven's Nest Aero -- MD5Ray01
18. World War 1 Anniversary Mass Flight -- OPEN FOR ALL
****RESET****
19. Sky Surfer Airshows -- Ace + Varren
Post a Reply to this thread to sign up. Be sure to provide me some sort of narration information, so I will have something to say during the show.
Pack Download (Map + Planes): ****REMOVED****
The show will take the following time schedule...All times are listed as the server's local time (Eastern Standard time / GMT -0500)
Gates will open at 11:00 AM
Pre-Show Reset and Opening Statements will take place at 11:50 AM
Show begins at 12:00 PM
More details to be added as time goes on, please post a reply to this thread to signup.