---Vandal's pack---
I'll use this topic for all future personal releases adding to the pack as I repaint. As current there are some errors with one of the models, that I will fix for the next release. I hope you enjoy them, any problems, comments, suggestions welcome. And by suggestions I do not mean add-on requests.
DOWNLOAD HERE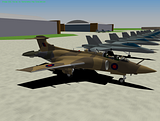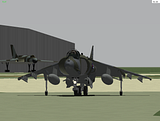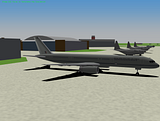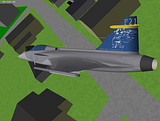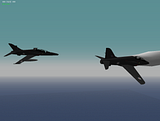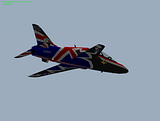 Pack info:
BlackBurn buccaneer:
This Buccaneer took part in the 1977 Red Flag, out preforming its more modern counterparts.
Credits: CMG, LordFlash
Retro Harrier GR9:
This Harrier was painted to take part in the RAF Harriers final flight.
Credits: S.C, LordFlash
Gripen:
Special fictional Gripen paint.
Credits: CEP pack
RNZAF B-757:
One of two B-757's used by the RNZAF for VIP and troop transport.
Credits: Owl
Hawk 2010:
The RAF's Hawk T.1 demo team from 2010.
Credits: 2CH, Birdfarm
Hawk T1:
Hawk T.1 as used by the RAF to train new fast jet pilots.
Credits: 2CH, Birdfarm
Hawk T2:
The RAF's new fast jet trainer, new avionics to replicate newer aircraft as the Typhoon and F-35.
Credits: 2CH, Birdfarm
Hawk 200:
A single seat version of the Hawk, used in the light attack role.
Credits: 2CH, Birdfarm
RN F-14D:
What if the Royal Navy flew the F-14? This is what it may have looked like.
Credits: 2CH, Birdfarm
Replica:
Back in the 90's BAE Systems wanted to get into the stealth business. To prove to their US counterparts they designed their own stealth aircraft. That was the replica, this is what I envisioned it to look like. This is still a little work in progress, but I've hard it so long I thought I should release it in it's current state.
Credits:2CH, Birdfarm
Toyota "follow me" car:
A follow me car, used by airports to guide aircraft if needed. This add-on isn't working and I need to look as to why but I only noticed it just before releasing this pack. So will fix by next upload.
Credits: 2CH
P3:
Birdfarm level blank P3 and P-3AEW&C.
Credits: CEP, Birdfarm
P-51:
RAF P-51 with invasion markings. Painted for Birdfarm comp one of my first repaints.
Credits: TF-58, Birdfarm
To do / fix list:
- [Fix] Errors to Toyota "follow me" car.
- [Fix] Shadowing errors on Gripen, RNZAF B-757.
- [To do] Finish Replica.
- [Fix] Add Replica user files.
ENJOY