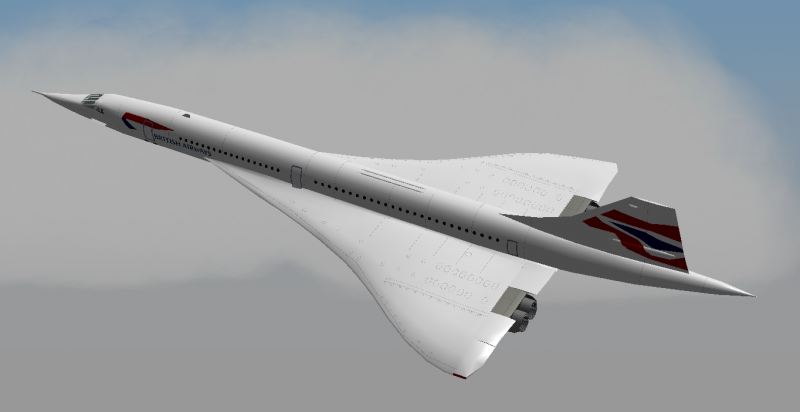 One thing YS has been lacking for a good number of years is a good Concorde, plus, it gets my deltaphile reflex twitching right from the off. I took this model from the oranleed pack and gave it 2 weeks of intensive work starting with the landing gear, moving on to the engines, and finishing off with some faint panel lines and what could quite possibly be the best cockpit I've ever made. DAT files have been modified a little to make it seem more realistic in the take off and landing phases, and i added an extra camera view so that you can see over the nose when you come in to land, oweing to the old girl having quite a steep AOA on the approach. I've kept it short and sweet, only doing the later BA and Air France versions. It did cross my mind to do the prototypes and the early 70's liveries aswell but i lacked the necessary source imagery. Despite being a 6MB model, it flies lovely and smooth. Ive had this in formation with my Vulcan, TSR2 and Typhoon all at the same time, with no lag whatsoever. I credit Oranleed and Soji for providing me with a base model, and Umaibow for the afterburners.
DOWNLOAD HERE
[instmod]1. Download the compressed file from my mediafire folder.
2. Unzip the .zip folder.
3. Move the aircraft and user folders into your main YSF folder.[/instmod]