Veteran

Posts: 680
Joined: Thu Feb 10, 2011 9:06 pm
Favorite Aircraft: F-104, Tu-95, Piaggio Avanti
Location: YYZ VOR 062 radial, 17.5 DME
Has thanked: 53 times
Been thanked: 236 times
Contact:

HMS King George V, as she appeared during the chase of German battleship Bismarck (May 1941). Two more months later and she would have been wearing some kind of complicated camouflage pattern which will make the paint job so much more difficult. 1/1200 kit by Revell.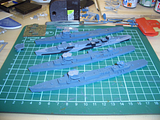 Four US WW2 Fletcher class destroyers in progress. From front to back they are DD449 USS Nicholas, DD570 USS Charles Ausburne, DD533 USS Hoel, and DD480 USS Halford. Already some differences can be seen among the four. The Halford will take a little longer because of the extra modification work I need to do - she was one of the three that were modified with a catapult to launch aircraft (the modified aft deck house can be seen just behind her on the edge of the cutting mat). All are 1/700 kits from Tamiya.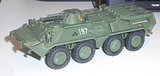 Russian BTR-80 Armored Personnel Carrier. The hardest part is actually getting the right shade of green - I don't have much experience with Soviet/Russian camouflage. Those are actually rubber tires, which I like because no painting is required! 1/72 kit by Trumpeter.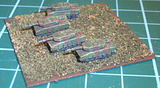 A platoon of Japanese Ground Self Defense Force Type-90 main battle tanks. For size comparison the grid on the cutting mat is 1 cm per square. 1/700 kit by Pit-road.
---
Taskforce 58
Users browsing this forum: No registered users and 6 guests