Senior Veteran

Posts: 1929
Joined: Thu Feb 03, 2011 4:22 pm
Favorite Aircraft: Boeing 747, all variants
Location: Central OK
Has thanked: 1020 times
Been thanked: 707 times
Contact:
Can't compare with the likes of what we have seen recently, but pleased to say I have completed about 95% of Ocaso and Ocaso del Norte. Some teasers: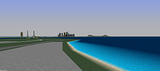 View from a resort hotel looking SW at the main island; downtown Ocaso and The Peaks visible.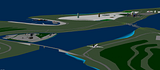 Aerial view of Ocaso looking SW. The small island on the left of the shot is what I have named "El Rincon", which is Spanish for "The Nook." Ocaso's rich and famous have made a nice home there for themselves
Plus, it has a nice waterfront, cafes and shops/restaurants. And a dock for boats. Also seen here is Ocaso's port, which is nicknamed "Horseshoe Harbour" for its shape.
Another view, looking due W.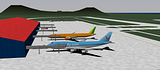 A view of the OCA ramp (start position testing in progress).
As far as CMI as a whole is concerned, I still have to work on the following:
- Air start positions around Ocaso
- City lights/hazard lights for tallest downtown buildings in Ocaso
- A new 20-story headquarters for Abel Jets (will be an elevation grid simple structure)
- New GA facility at LNB, plus a new satellite concourse (about a day's worth of work). I have already added a "stinger" concourse to the NE end of the main terminal for narrowbody aircraft only
- Minor additions here and there to Turbot and Winnsworth islands
Oh yeah, by the way, there is a code change for Mandiola International Airport. It is now designated as "MXA" instead of "MLA". The reason will be revealed in a few weeks. Stay tuned!
Check out my YSFS videos on my
Youtube channel
!
-----------------------
ATRP: When used in my posts refers to "Air Traffic Replay Project"
-----------------------
Avatar: Pratt and Whitney JT8D-219
-----------------------
My general rant: I will call them blended winglets, not Sharklets; There is no CEO, it's just simply put, an Airbus 319/320/321, or the 320NEO, 321NEO etc. I didn't land IN DAL, I landed AT DAL. On the other hand, I did land in Dallas.
-----------------------
Website GRID updated for 2019. New stuff in the works!
Turbofan's Terminal
Hi! I make average, undesirable, boring grey maps for YS Flight!
---
Turbofan
Users browsing this forum: No registered users and 1 guest