Experience the First Annual
YS Flight Aerobatic Expo and Fly-In
When: SATURDAY, October 22 and SUNDAY, October 23
***SEE MOST RECENT POST FOR UPDATES***
Where: YS Aerobatic Teamspeak
YS Server: 97.81.251.219
Teampseak: ts.ysfhq.com
Download: Please get airbourne ground objects and PMNV ground objects.
viewtopic.php?t=2616
viewtopic.php?t=6288
No pack will be distributed for the show. It is up to the individual to download all required aircraft/scenery.
Schedule:
Friday: Fly-In and Night Show (8:30 PM - 9:30 PM EST)
Saturday: Airshow and Mass Flight (Show begins at 11:00 EST)
Important Dates
Registration
September 8 - September 30
Performer Review
October 1 - October 16
********************READ BELOW********************
Registration for the airshow is a bit different than other shows. First, you must register your act by September 30th to be qualified for Performer Review. From October 1 - October 16, the airshow staff, Kujo and Coop, partnering with VNAF Aerobatics, will review performers demonstrations. You must submit a track or fly a live demo to Kujo or Coop before October 16. The staff will then make a schedule. Not all who go through Performer Review will be given an airshow slot. This is due to limited number of spots available in the show. Performer Review is not meant to exclude members of the community, but rather to have a reasonable length show, and to produce the best possible show for the audience.Those who do not make airshow slots will be priority for the Friday Night Show. Register with your best act and we cant wait to have you at the show!
Want to Register?
INFORMATION
In order to register your display or team for the show, just fill out and post the following format below. You will be added to our list of potential displays. Once we have followed up with Performer Review and completed it, the official and final list/schedule of performers will be posted here in the weeks before the event. If you simply want to spectate or join in on the opening day fun, you don't need to register for anything, just show up!
Registration Format
Display Name -
Aircraft Type -
Names of Pilots -
Country of Origin - (can be your country or origin of your display)
Time Zone - (in UTC)
Download link - (required)
Link to official topic/website - (a place where more information on your display can be found for other people such as a topic or website)
---
You may be PM'd for further questions regarding your displays. Airshow Informational Displays (visual "charts") Red Box Marks the Active Runway.
Aerobatic Box: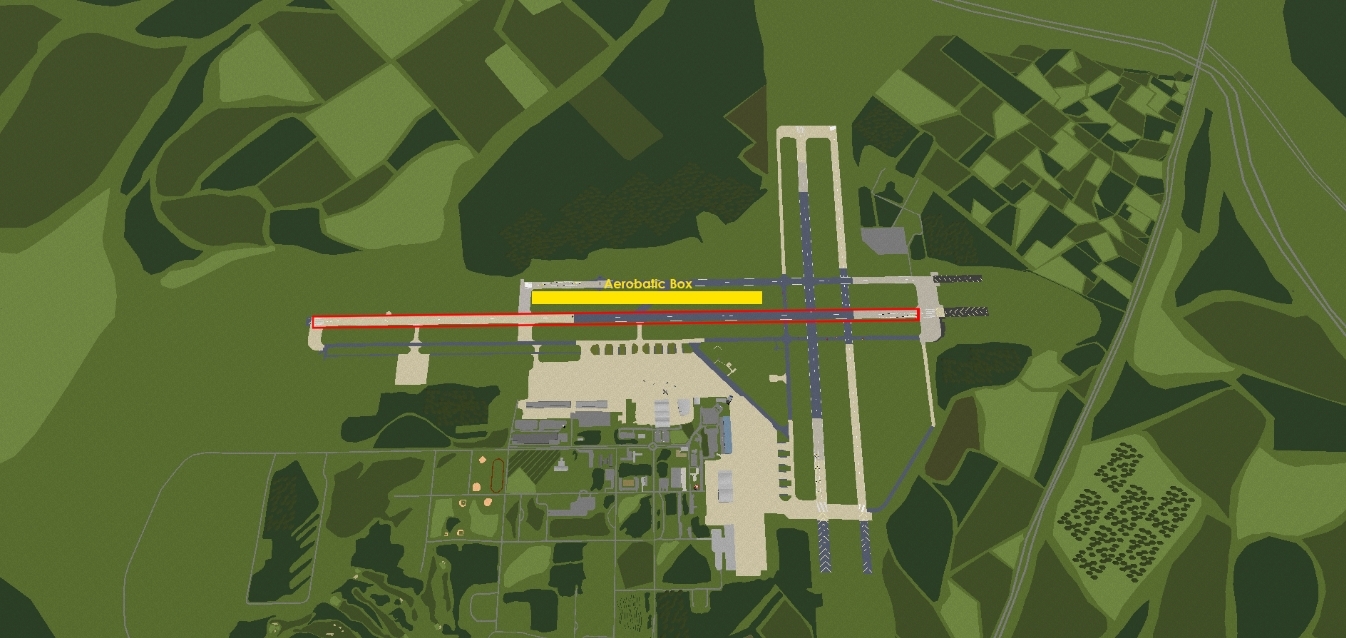 If you want someone to narrate/play music, you MUST send them music and narration. Other wise, you will fly to the airshow music the airshow team provides. (I've been told my taste in music isnt that good so I suggest getting your own
,that is unless you like smooth jazz from the weather channel.)
Please register for the night show below as well. Keep in mind, there is limited space available, so please register for only the Saturday show, or the Friday Night show.
If you have any questions,comments,or concerns, contact Kujo or Coop and they will provide further details.
WE CANT WAIT TO SEE EVERYONE AT THE SHOW!!