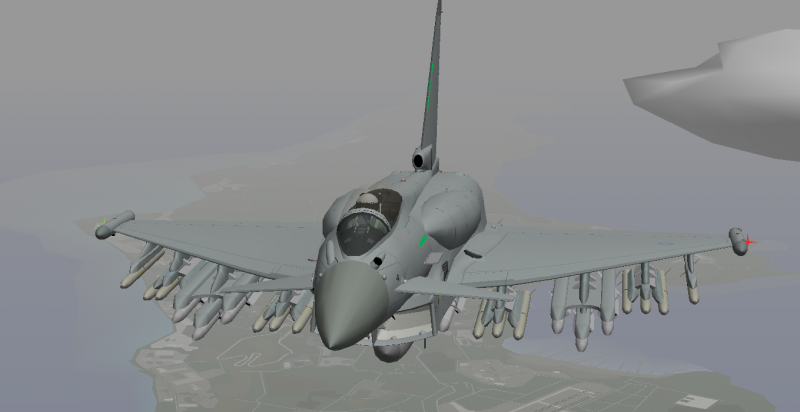 Another project I completed whilst on tour in the 'sunny' Falkland Islands. The original intention with this model was to upgrade Iceman's typhoon, as it seemed like the most promising candidate. Unfortunately though the more and more I compared the model to both source imagery I had to hand and the jet itself while working on it, the more I was steered toward scratch modelling my own. In the end i think i used about 75% of the fin, used the vertices on the trailing edge of the wings as a profile for my own, and the pilot from Iceman's model, the rest was scratch built, with pretty hefty amounts of detail. I may have got a little carried away with the main undercarriage and the engines.... Particularly the engines... 240 something motion paths in the nozzle petals...
Near enough everything on the jet works as it does in real life, the flight characteristics were fine tuned with me, one of my fellow engineers, and by two pilots who currently serve on 3 and 6 squadron respectively. I have included a full selection of stores that can be loaded onto the aircraft, including ASRAAM's, AMRAAM's, MBDA Meteor, Sidewinder, ALARM Air to Ground Missile, 500lb Advanced Paveway 4, 1000lb Advanced Paveway 2, and standard 1000ltr Supersonic Fuel Tanks. The pack contains examples of single and twin seat aircraft from all squadrons that the typhoon has served with to date, including the 4 aircraft of 1435 Flight. The model you see in the screenshot is my own fictional depiction of the up and coming Tranche 3 variant with the conformal spine fuel tanks, though i may have over exaggerated the weapons load somewhat. Its within the MTOW...
Enjoy
It flies like a beast.
DOWNLOAD HERE
[instmod]1. Download the compressed file from my mediafire folder.
2. Unzip the .zip folder.
3. Move the aircraft and user folders into your main YSF folder.[/instmod]